White Gold Rings: Savicki White Gold Engagement Rings UK
A symbol of everlasting beauty, love, respect and care for a loved one, white gold has long been a highly popular choice for engagement rings – and Savicki White Gold Engagement Rings UK offer an exquisite selection of unique white gold rings perfect for expressing your undying love.
Savicki White Gold Rings UK
The Symbolism of White Gold
Associated with everything pure, good and fresh, white gold has long been regarded as a symbol of ultimate purity, chastity and charity, new beginnings, growth and clarity of mind.
Said to protect, encourage and stimulate openness, reflection and purity of thought & actions, it has been highly valued as far back as ancient Egypt.
Here, in the land and age of the Pharaohs, colours were believed to express something deep within an object or person's heart. Alleging that their gods' colours were unknown – just like the gods themselves were somewhat unknown to them – these ancient Egyptians used varying colours to symbolise these gods' (as well as kings' and queens') aspects.
Symbolic of purity and omnipotence, white was frequently used to represent Egyptian life's simple, yet sacred aspects and was therefore regularly seen during religious ceremonies, rituals and even during the embalming process.
White was even used in the names of holy cities – Memphis, for example, translates roughly to "white walls – and as such, white gold was equally considered a sacred symbol of religious significance and purity.
They also considered gold to be symbolic of their eternal, indestructible and imperishable nature and, believing their gods' bones consisted of gold, regularly used this precious metal on statues to symbolise the gods' everlasting rule.
What's more, they often buried their kings and queens in a gold sarcophagus – providing them with a golden device of transportation to carry them over to their eternal after life.
Explaining the very roots of gold's symbolism of indestructible relationships and eternal love, this means by tying gold and the colour white together, you have a perfect symbol of an indestructible nature, eternity, sacredness and purity – which, of course, all combine to make up the very substance at the heart of any successful relationship, engagement and ultimately marriage.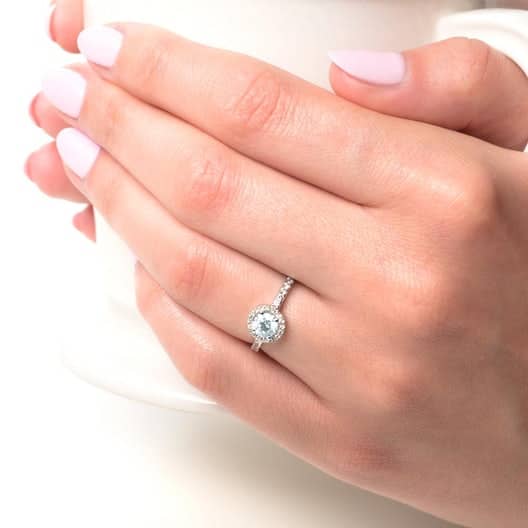 Eternity, Sacredness and Purity
White Gold Rings
Boasting a sophisticated, cool gleam, a white gold engagement ring adds stunning shine and purity to the hand of your beloved, while simultaneously emphasising her individuality, independence and maturity.
Tip: A fantastic way to express the full extent and purity of your love and the sincerity of your commitment, a white gold ring looks magnificent on any skin tone but is especially complementary to rosy and fair skin tones.
Savicki White Gold Engagement Rings UK
Inspired by the deep symbolism and long history of reverence for white gold, Savicki Jeweller's experienced jewellery artisans have been creating uniquely designed white gold engagement rings since 1976.
Passionate about beauty, elegance and style, we now offer an exquisite selection of white gold rings that not only that bring perfect form to the magic and romance of your proposal but allow you to express the true extent of your everlasting love and the depth of your commitment in a way that words alone cannot achieve.
Available in a comprehensive range of styles, shapes and widths, our engagement rings also come in a wide choice of precious stones, with diamonds, rubies, sapphires and emeralds being among our customers' most popular choices.
Ensuring Perfection
The moment you ask your beloved to become your wife is one of the most precious and most memorable moments of your love. As such, it deserves perfection in every aspect.
Having chosen the perfect ring to match your future bride's personality and taste in jewellery either by browsing the range from here or by filtering for a specific stone, style, width or indeed range of prices via the panel on the left, it is therefore imperative for you to ensure you purchase a ring to perfectly fit her finger – our Ring Size Chart and Free Ring Sizer will help you to do just that.
If you are planning to make your proposal a wonderful surprise and unsure about which size you need, we recommend secretly "borrowing" one of your beloved's rings and having it sized by a close-by jeweller – you will obviously need to make sure you return said ring quickly to prevent her noticing its absence and consequently guessing what you are up to!
Once you have selected a ring and determined the right size, you can place your ring into your shopping basket and proceed with your order (learn more). Alternatively, you can also order your white gold engagement ring by calling us, talking to one of our friendly consultants via live chat or by emailing us at: contact@savicki.co.uk.