SAVICKI Unique Ruby Engagement Rings UK
If you are looking to propose to your beloved with a beautiful ruby engagement ring, look no further – Savicki Jewellers offer a stunning range of delightful, truly unique ruby engagement rings UK lovers will simply adore.
Ruby Engagement Rings
Rubies Throughout History
Described as a "drop of the blood of Mother Earth's heart" in the Orient, the ruby has made its journey through the world's cultures from the early beginnings of history.
Rubies derive their name from the word "ruber", a Latin word simply meaning red, and some ancient cultures believed that they, like many other gems, grew like fruit on trees – starting out as tiny white gems that then slowly grew and ripened, being turned red by the sun's light. Once saturated with red, they were ready to be harvested.
Deemed the most precious of gems in ancient Sanskrit writings and the Bible, it was called Ratnanayaka ("Lord of Gemstones"), by Indians, with Hindus referring to it as a leader of gems, or king of gems.
Each ruby found was given a very special royal welcome by the Indian Emperor, and anyone honouring Krishna by donating rubies was believed to have assurance of a future rebirth as an emperor.
Referred to as leaders of gems or kings of gemstones by Hindus, rubies were sorted, or divided, into lower, middle and upper castes (classes) in accordance with their beauty and flawlessness. Rubies of lower castes were strictly kept away from those of higher ones, because it was believed contact with these inferior stones would contaminate the superior ones and thereby diminish their magical powers.
In China, the colour of stone in a Mandarin's ring denoted his rank – and a red ruby indicated that the wearer was not only one of the "great" but a key figure among them.
Associated with fire, the sun and blood, rubies were said to have many mystical properties and positive effects on man's physical and mental health, and during the Middle Ages, rubies were thought to darken in the presence of danger and therefore considered stones of prophecy.
Russia's Ivan the Terrible declared they were good for the brain, heart and memory, and in the 13th Century, a prescription for liver problems demanded powdered ruby.
During the 15th and 16th Centuries, they were said to counteract poisons and restore vitality & youth, and in the 19 th Century (1880's), they became known as "dearly loved stones" and "gems of gems" among French jewellers.
Considered stones of love, passion and energy; zest for life and power, rubies were regarded as the perfect symbols for powerful feelings throughout – making them a favourite gem among the rich & powerful and the ideal choice of stone for engagement rings.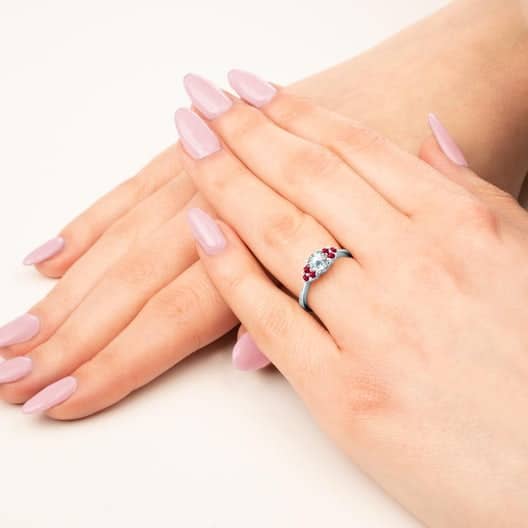 The Ruby Engagement Ring in the 21st Century
Signifying love & fiery passion between two people, ruby rings continue to delight in the 21st Century and even today, it is an often favoured choice of stone for the engagement rings of celebrities. Some of the most notable examples of this include the stunning, unique ruby engagement rings received by:
Jessica & Ashlee Simpson, who were given a three-stone ruby and a Vintage-inspired ruby ring respectively by Eric Johnson and Evan Ross to mark their engagements in 2002 and 2014;

Eva Longoria, who was given a white gold engagement ring set with a ruby surrounded by a halo of diamonds when José Antonio Bastón proposed to her in December 2015, and

Katy Perry, who had a unique flower-shaped ruby engagement ring slipped onto her finger by Orlando Bloom on Valentine's Day 2019.
Ruby rings are, however, not only favourites among celebrities but also retain a firm place within our customers' top 10 choices of engagement rings .
Rubies Today
Savicki Unique Ruby Engagement Rings UK
The moment a young (or indeed an older) man proposes to the woman he loves is a very special moment of incredible romance, magic and importance. Such a special moment deserves an equally special ring to mark the occasion, a ring that declares his love's depth and the sincerity of his commitment without any need for words.
We believe ruby rings are the perfect choice for this and, inspired by their incredible natural beauty, glow and history, have created a vast range of stunningly beautiful, unique ruby rings that will delight and melt the heart of any woman.
Including a diversity of styles, widths and colours of gold, this range offers a suitable ring for any man's beloved, whether she is a romantic at heart, a "follower of fashion" or someone who believes in tradition; whether she is a formidable woman who likes to make statements through her jewellery or someone who is "in touch" with the spiritual aspects of life and/or believes in magic and the power of gems.
Peruse our whole range of ruby rings from here , search for the perfect ring by colour or use the panel on the left to filter for a specific style, colour, width or indeed price range.
How to Order
Having selected the perfect ring to match your beloved's style, tastes and character and made sure to select the right size (learn more about sizing rings here; if you are unsure, please order a free ring sizer to make sure you get it right – nothing spoils the magic of your proposal's moment quite like a ring that does not fit!), you can place your order online , by telephone or via live chat . Alternatively, you can also email us your order at: contact@savicki.co.uk