Blue Sapphire Rings: SAVICKI Blue Sapphire Engagement Rings UK
Blue sapphires have been regarded as stones of royalty and wisdom; chastity, trust and faith for millennia. Inspired by these magnificent stones' captivating journey through mankind's history, Savicki Blue Sapphire Engagement Rings UK have created an array of stunningly beautiful, unique blue sapphire rings designed to perfectly convey the depth of your love and commitment to your beloved.
Blue Sapphire Engagement Rings
Blue Sapphires Through History
Magnificent in all its heavenly hues, the blue sapphire has long been regarded as holy, a "gem of gems" that was forever associated with all things, sacred, divine favour, royalty, wisdom and prophecy.
Steeped in history and considered sacred in the lore of almost every religion, this stone was a symbol of faith and celestial hope believed to bring spiritual insight, good fortune and protection throughout ancient and medieval times. It was not only a symbol of strength and power but also one of wise judgement and kindness.
In the ancient Hebrew lore, both Abraham and King Solomon were said to have worn blue sapphire talismans, and the law (commandments) Moses was given on Mount Sinai (or Mount Horeb) were said to be etched on sapphire tablets.
Ancient Greeks wore blue sapphires when seeking answers from the oracle of Delphi at the shrine of Apollo, while Buddhists believed it to bring spiritual enlightenment and devotion. It was also considered one of the world's "great gems" by the Hindus, who used it for the alignment of astrological influences and as a worship offering in their temples.
Cherished for their powers of insight and protection by nobles and kings around the world, it was also used to adorn the ecclesiastical rings of Christianity.
Thought to reveal treachery and fraud; preserve chastity and protect wearers from plaques, fevers, skin diseases and poisons, it was also used in wizardry and magic, where it was believed to be especially effective in helping wearers resist ill-wishing and black magic.
It was also thought to increase concentration, heal eye ailments and lustre if an impious or intemperate person wore it. This latter belief carried through to the Middle Ages, where the superstition that blue sapphires changed colour when worn by an unfaithful or insincere person resulted in engagement rings being eagerly decorated with these gems.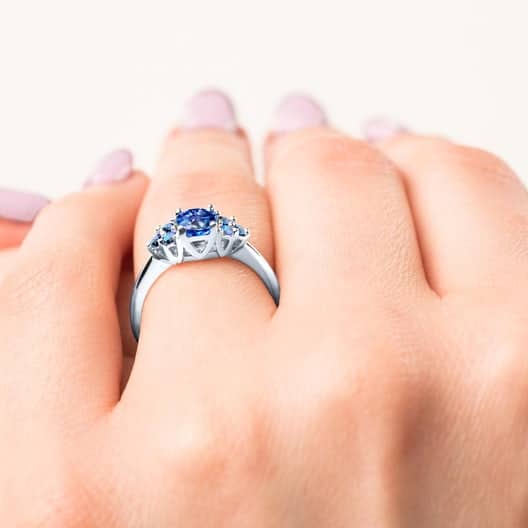 Still considered a stone of royalty, wisdom and learning; psychic activation and mental acuity today, the blue sapphire is used by seekers of truth practising Tantra (or Tantric) Buddhism, esoteric (inner) Hindu traditions and "New Age" meditation practices.
Believed to bring healing and order to the mind; lend focus and strength; give wearers (users) the ability to see underlying truths beneath surface appearances and use the knowledge thus gained; provide access to one's deeper consciousness levels and consequently gain greater understanding of self.
Said to embrace order, self-discipline and structure, blue sapphire is said to be perfect for manifesting ideas and accomplishing goals; able to transmute negative energy & thoughts and consequently highly effective in chakra and earth healing.
Reflecting the sky's colour energy, the blue sapphire is said to mark the beginnings of emotion and indeed life itself. Believed to help wearers curb their tempers and become more trustworthy, sincere and responsible; dependable, charitable and patient, this stone is also said to enhance compassion, respect, discretion and honour.
Considering all this, it is not surprising at all that these marvellous, incredibly beautiful stones are now regarded not only as stones of wisdom, but as symbols of purity, love and commitment – and the perfect stone for engagement rings.
Purity, Love and Commitment
Blue Sapphire Engagement Rings UK
Blue sapphire engagement rings have been used by suitors to express their love and sincerity of commitment for centuries and have become even more popular in the UK after the engagement of Prince Charles and Lady Diana Spencer in February 1981 – a momentous event he marked by giving her an engagement ring adorned with both diamonds and a 12-carat blue sapphire – and, more recently, when Prince William gave that very ring to Kate Middleton upon their engagement in October 2010.
Savicki Blue Sapphire Rings
Savicki Jewellers have taken the romance and magic of that moment a man asks his beloved to be his wife and combined it with the beauty and power of blue sapphires to immortalise that special moment in truly unique, stunningly beautiful forms for more than 42 years.
Understanding that every woman's personality and tastes in jewellery are different, we offer blue sapphire engagement rings in a diversity of styles, types (colours) of gold, width and – equally aware that budgets vary, too - price ranges.
Order Your Blue Sapphire Ring
View our range of rings by colour of gold or filter for a specific style, width, price or indeed different precious stones by using the panel on the left of the page. Once you have found the perfect ring to declare your eternal love to your beloved, make sure to size it correctly (learn more) and then order it straight from our shop , email us: contact@savicki.co.uk or, if you prefer to speak to someone, give us a call or contact our consultants via our live chat facility.