Savicki Jewellers: Yellow Gold Engagement Rings UK
A classic symbol of love, purity and commitment, gold rings have been used to mark engagements for hundreds, even thousands of years. Inspired by their captivating history and symbolism, Savicki Jewellers have created a stunningly beautiful selection of unique gold engagement rings UK brides-to-be will simply adore.
Savicki Gold Engagement Rings UK
The History and Symbolism of the Gold Engagement Ring
The instant you ask your "chosen one" to marry you is one of both your lives' most romantic, magical and altogether remarkable moments – and the custom of giving her a gold ring to profess your everlasting love and make the promise of marriage at this very special moment has been around for millennia. But where and when exactly did it all start?
A Magical Moment…
Cultures all over the world have observed the custom of giving your bride-to-be a gold engagement ring as a symbol of your ever-lasting love and your commitment to marry her for millennia. Inspired by the captivating history and symbolism of gold rings, we complement it and the magic of this special moment with truly beautiful and unique designs.
In the Beginning…
The tradition of giving engagement rings is believed to have been initiated by the ancient Egyptians, who originally presented their chosen ones with rings fashioned of plant materials or metal wires. As time went by, they began using nobler materials including ivory, bronze and gold.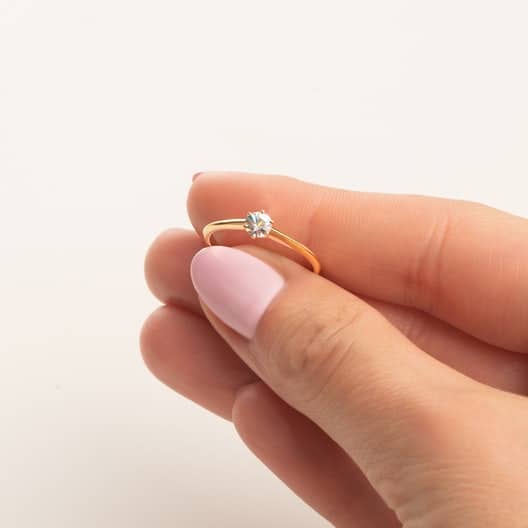 Crafting their rings in a circular shape not for convenience or by accident but out of the belief that the circle symbolised both infinity and love, they also used gold for a very good reason… In ancient Egypt, colour was believed to express things at a person or object's very heart. Alleging that, like the gods themselves, the colour of these gods was unknown to them, Egyptians also used colours to express, or symbolise, aspects of these gods (as well as those of their kings and queens) in their works of art.
Linking the colour yellow to both gold and the sun (both of which were considered symbols of their gods, kings and queens' indestructible, imperishable and indeed eternal nature), they frequently used it to portray said gods, whom they believed to have bones of gold. Using gold on the statues of gods to symbolise the ever-lasting nature of their rule, they also buried many of their kings and queens in golden sarcophagi, gold transportation devices carrying them towards the after-life, or eternity – it was here that the foundation for gold's reputation of symbolising eternal love and indestructible relationships was laid.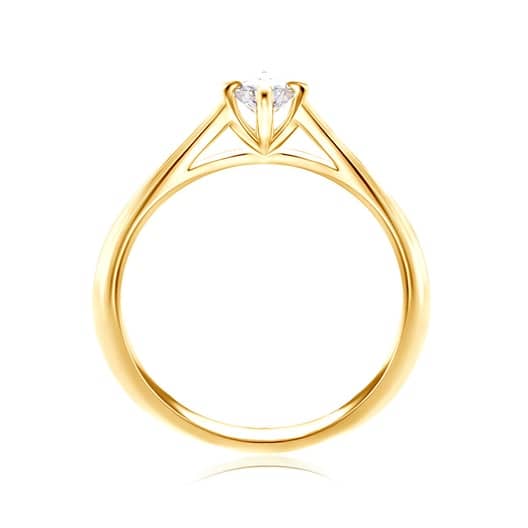 Ancient Rome to the 21st Century
Gold was equally valued as the "metal of the gods" and a symbol of purity and perfection by the ancient Romans, Africans, Asians, Central Americans and the Irish. Frequently used for ceremonial purposes, as offerings to gods and to beautify the courts of chieftains, it was also seen by most cultures around the world as a symbol of authority, charisma, wealth and prosperity.
When the ancient Romans took over the custom of giving engagement rings from the Egyptians, they, too, therefore often used gold rings. While the future wives of ancient Rome's rich merchants, patricians and, of course, members of the imperial family, invariably received (frequently elaborately decorated) rings made of precious metal, those of less wealthy citizens were often presented with two rings: one made of iron for "daily wear" and one made of a nobler metal for "special occasions".
Continuing throughout the Middle Ages, the 15th, 16th and 17th Centuries (the latter two of which saw the custom flourishing with ever more intricate ring designs), engagement rings started being associated with diamonds as symbols of pure, eternal love in the 18th Century.
The romanticism of the 19th Century resulted in engagement rings enchanting recipients with ever new, ever more beautiful forms and it was in this century, in 1886, that Tiffany Jewellers created their now legendary diamond engagement ring. Such was the style and beauty of this ring that even today, almost 80 per cent of world-wide brides-to-be receive engagement rings fashioned in this timeless style.
Gold Engagement Rings Today
Savicki Yellow Gold Engagement Rings UK
Firmly believing that this, the most precious and uniquely memorable moment in your life deserves an equally unique ring to mark the occasion, Savicki Jewellers now complement this enchanting moment and indeed the captivating, millennia-spanning history of giving engagement rings, with an array of uniquely designed, beautifully crafted yellow gold engagement rings in a diversity of styles, width, precious stones and price ranges to meet any budget.
Choosing, Sizing Ordering Your Gold Engagement Ring
When choosing an engagement ring, carefully consider your beloved's taste in jewellery, style and personality, then search for the ring you believe to be perfect for her by style using the links above or filter for a specific style, type of stone, ring width or range of prices via the panel located to the left of this page.
When you have found the perfect ring, please ensure to size it correctly using our Free Ring Sizer and Ring Size Chart before placing your order, as an ill-fitting ring is likely to somewhat ruin the magic of your proposal.