Yellow Gold Wedding Bands by Savicki Gold Wedding Rings UK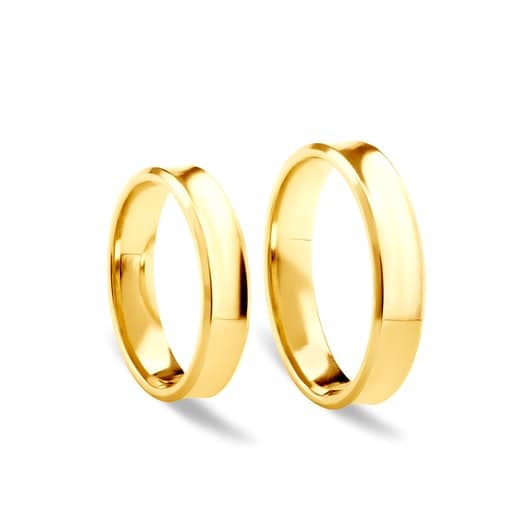 Having no beginning and no end, a gold wedding band's perfect shape is a sacred symbol of infinite love – and the uniquely designed, beautiful yellow gold wedding bands from Savicki Gold Wedding Rings UK will forever express your loving care, devotion and loyalty to one another with a glow that proclaims radiant happiness and joy.
Wherever you are, from the very moment you breathed the sacramental "I do" throughout all your life's seasons from spring, summer and autumn to winter, a single look at your gold wedding ring will forever express your love's full depth and strength better than you could hope to do with 1,000 words - and forever serve as a reminder of that extraordinary moment when it was slipped onto your hand by your beloved and every single fleeting magical moment you have experienced as a couple ever since.
Savicki Gold Wedding Rings
Planning a Future Together
We assume that you are visiting this page because you are in the process of planning a future together, so please allow us to first wish you all the very best and most beautiful for your life as a married couple. We take great pride and pleasure in the fact that creating beautiful, unique gold weddings affords us the privilege to participate symbolically not only in the momentous occasion of exchanging your wedding vows but in your radiant happiness and indeed the entire life that lies before you.
Wishing You All the Very Best for Your Life as a Couple
The Evolution of Gold Wedding Bands
Before you turn to choose your wedding bands, let's briefly explore the captivating history of the custom that has bound lovers around the world together for millennia…
The custom of wearing wedding bands began in ancient Egypt, where lovers swore their eternal love for one another while slipping circular rings crafted from plant materials onto their fingers.
As the circle, like time, is endless, these rings were for ancient Egyptians of magical significance – and the central hole within them was not merely considered an empty space but symbolised the portal to eternal life.
The symbolism of these ancient wedding bands was thus associated with love, which should also be eternal and unchanging. While the used plant materials' impermanence somewhat contrasted with this, ancient Egyptians regarded these wedding bands as perfect symbols of fulfilled, eternal love.
When gold wedding rings first appeared during the first millennium BC, they were, however, not fashioned in this noble metal by Egyptians but by the Israelites, who, as well as recognising their existing symbolism, also regarded them as confirmations of the signing of and guaranteed compliance with the terms of wedding contracts.
As centuries came and went, the strength of wedding rings' significance increased and the tradition of lovers exchanging golden wedding bands during their wedding started spreading worldwide. Having become a symbol of true love and commitment around the world, gold wedding rings were during the 13th Century finally recognised as symbols of marriage confirmed under ecclesiastic (canon) law by the leaders of the Catholic Church.
Captivate by the history and symbolism of gold rings, Savicki Jewellers have been crafting stunningly beautiful, unique yellow gold wedding bands to symbolise couples' eternal love and commitment with exceptional style and elegance since 1976.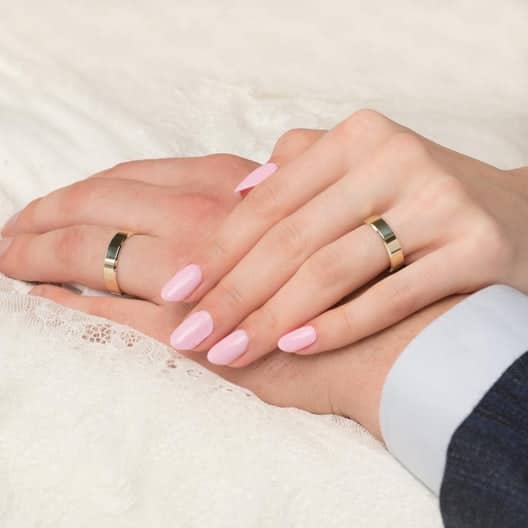 Worldwide Symbols of Eternal Love
Savicki Gold Wedding Rings UK
Combining our experience and passion for elegant style and beauty with advanced jewellery art technologies, Savicki Jewellers create uniquely designed gold wedding bands in a diversity of styles, shapes, widths and choice of precious gems.
Invariably crafted using a time-proven, seamless method to ensure perfect form and prevent breaking during use or if a ring's size requires adjusting – which may well become necessary in time, as the size of our fingers changes as we age – and guaranteed for quality, all our yellow gold wedding bands are marked clearly with their weight and delivered complete with certificates of quality.
To find the ideal gold wedding ring to perfectly symbolise your undying love for each other and immortalise your most precious moments in truly unique beauty and style, view our whole range from here or use the filters on the left to search for a specific style, stone, shape or width of rings.