Our 46 years of jewellery experience allows us to create products that attend the most beautiful moments of your life and become a timeless symbol of love and beauty. For years we have had the privilege of creating mementos of life's significant events - engagement, wedding, christening or Holy Communion.
Online Jeweller was created as a result of the desire to spread the art of jewellery, which has been created in the Lublin workshop for almost 50 years. We want to make it possible for each of you to get to know jewellery created with passion, from every corner of the world. The establishment of the online showroom is a continuation of our long-standing work in the pursuit of excellence and giving you jewellery that, through craftsmanship and quality of workmanship, is the perfect way to express your feelings, create a symbol or even stop time to remember the happiest moments of your life
We are a Jubiler accessible to every customer, regardless of where they live.
We meet your expectations - we focus on convenience and comfort so that every customer can purchase jewellery in the comfort of their own home.
Currently, we are the only jeweller to offer the support of experienced advisors - daily 8am to midnight - via online chat, phone call and even an innovative E-salon.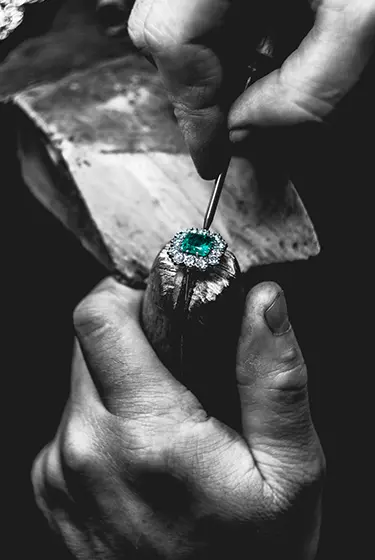 Make an appointment for an online product demonstration and we will dispel all your doubts! In addition, you will be given the opportunity to conveniently return your jewellery for up to 120 days after purchase.
Our jewellery shop offers a wide selection of engagement rings, rings and jewellery that will meet the expectations of even the most demanding customers. The designer's engagement ring collections captivate at first sight, while the wedding rings unite two people with the bonds of infinite love.
We know how important it is to have confidence in the jeweler from whom you choose to buy such important jewellery as an engagement ring, wedding rings or other jewellery intended as a memento of a special occasion.
This is why SAVICKI jeweller is the ideal solution for everyone. Our company enables you to get the most beautiful jewellery quickly, without leaving your home and, most importantly, completely safely. We deliver all ordered products free of charge to a previously indicated place, also offering support at every stage of the purchase decision.
SAVICKI jeweller will also help you when choosing the right size of the jewellery you are ordering - by sending you a free jewellery measure. However, if you do not manage to find the right size or model - we offer up to 120 days for a possible return or exchange.