Savicki Rose Gold Engagement Rings UK
If your beloved believes in "love at first sight", Savicki Rose Gold Engagement Rings UK is the place to go for an engagement ring – because the delicate, incredibly feminine shade and beauty of a unique Savicki rose gold engagement ring will melt the heart of any romantic.
Savicki Rose Gold Engagement Rings
Why Choose a Rose Gold Engagement Ring?
First created by Russian jeweller Carl Fabergé (who is, of course, famous for creating the renowned, ornately decorated Fabergé eggs) in the late 19th Century, rose gold was at the time referred to as Russian gold.
Now also frequently known as pink or red gold, this blend of gold and copper features an incredibly beautiful, very feminine blush-hue that became extremely popular during the 1920's, when the Cartier brand prominently featured it in their jewellery lines.
First introduced to the public in 1924, the Cartier "Trinity Ring", a now iconic band made of rose gold, is widely considered to have brought this delightful colour of gold into mainstream fashion. Said to communicate luxury and often associated with affluence, elegance and style, it has a soft, romantic hue that has earned it a reputation as a symbol of rich, deep love.
Thought to alleviate anger and create a "sense of calm" in colour psychology, it combines a refined, composed and indeed incredibly charming appearance that will invariably attract admiration. Rose gold is, thanks to its copper content, also extremely durable – which makes it an ideal choice for ladies with very busy lifestyles.
Dazzlingly beautiful in any style of ring, it is particularly appealing in vintage-style or classic engagement rings, so if your beloved leans towards this type of jewellery, this would be the perfect choice. Representing love, a rose gold engagement ring is, in short, the perfect choice if your beloved is a romantic at heart, leads a very busy life, loves classic/vintage style jewellery or simply admires the elegance and cool, calm sophistication of rose gold. Tip: Invariably enhancing the beauty of a woman's hand, rose gold will look especially fantastic on ladies with warm or cooler skin tones and stands out especially beautiful against pale skin.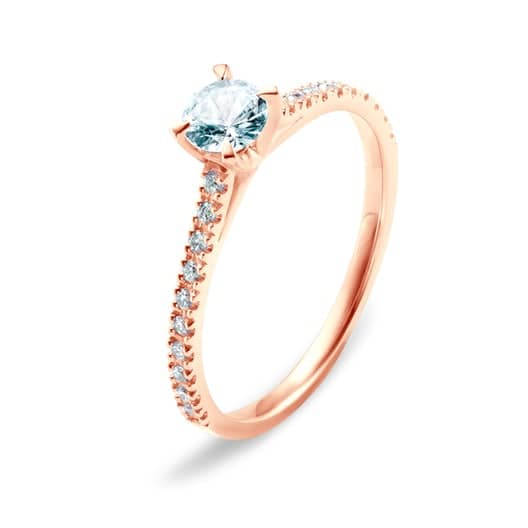 A Symbol of Love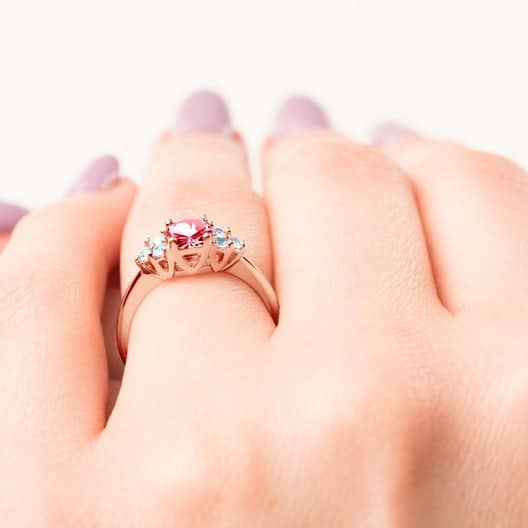 Savicki Rose Gold Engagement Rings UK
Your engagement is a very special occasion indeed and the moment you propose to the woman you love, and she says "Yes" is one of THE most precious, most romantic moments you will ever experience throughout your entire lives.
A moment where magic floats in the air and time seems to stand still, this moment deserves an equally romantic and special engagement ring that will not only allow you to declare the wealth of your undying love in the most beautiful manner but does so in truly elegant and sophisticated, unique style.
Savicki Jewellers have had the honour of participating in many couples' special moments since 1976. Combining our years of experience with a passion for style, elegance and beauty, we have created a range of unique, stunningly beautiful rose gold engagement rings that will express your love's wealth perfectly – much better than a thousand words could ever hope to achieve.
Better than a Thousand Words
Savicki Rose Gold Rings
Tastes in jewellery, just like every woman's personality, vary. Bearing this in mind, our jewellery artists have created rose gold rings in a broad diversity of styles, set with precious gems of varying types colours and in different widths (when choosing a width, it may help to know that narrower rings are most attractive on slim, delicate hands, whereas wide rings are most attractive on larger hands).
To make finding the perfect engagement ring to make your moment of proposal even more special a little easier, you can use the panel situated to the left to filter your search for a specific style, stone, width and, as we are aware that budgets also vary, price range.