Savicki Unique Titanium Wedding Rings UK: Your Best Choice for Titanium Wedding Bands
SAVICKI Unique Titanium Wedding Rings UK offer an extensive range of uniquely designed, stunningly beautiful titanium wedding bands perfect for declaring your eternal love for one another in both style and comfort.
Savicki Titanium Wedding Bands
Why Choose Titanium Wedding Rings?
Deriving its name from the Titans of Greek mythology (the 12 sons of Uranus and Gaea, each of which had specific strengths and talents), titanium is an incredibly strong, durable material that will not melt, bend or break under any circumstances.
Maintaining its appearance throughout your wedded life, it will over time develop an attractive, natural layer of oxide. However, if you prefer to maintain your rings' original look, this layer can be polished off with ease.
Wedding rings have long since been used as symbols of love, promise and commitment. The strength and durability of titanium further emphasises this symbolism and makes titanium wedding bands wonderful symbols of strong, solid relationships.
Offering a modern and stylishly elegant look, titanium is also very light, which means wedding rings crafted from this metal are extremely comfortable to wear. This can be especially important for individuals who are not used to wearing rings on a regular basis.
Titanium is also an excellent choice for people with allergies to gold and/or the additives (i.e. nickel, copper, etc.) contained therein. Comparatively inexpensive, it is also a more affordable alternative to white gold or platinum – allowing you to achieve the stylish, modern look of such rings even on a more limited budget.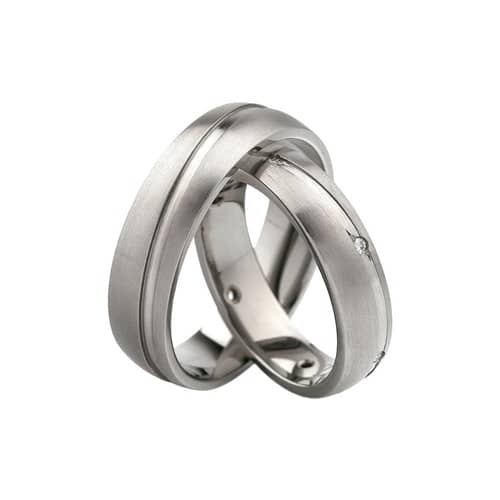 A Symbol of Solid Relationships
Savicki Jewellers Unique Titanium Wedding Rings UK
Inspired by the strength, durability and stylish beauty of titanium, our experienced jewellery masters have created a collection of stunningly beautiful, unique titanium wedding rings in a diversity of styles, finishes (matt and polished), widths and profiles, as well as rings set with diamonds to suit any couple's tastes and preferences in jewellery
Choose your rings by browsing the entire collection here or filter your search for specific features using the panel on the left.
Once you have selected the perfect set of rings to symbolise your relationship's strength and endurance, please make sure to size them correctly before ordering your titanium wedding rings by phone: + 44 (1462) 889559, online, via email: contact@savicki.co.uk or by speaking to one of our helpful consultants via Live Chat