SAVICKI Black Gold Engagement Rings UK
A perfect symbol of love and commitment, black gold rings are the ideal way to immortalise the moment of your proposal – and a luxury every woman deserves. If you want to profess your love in a truly unforgettable, fashionable style, Savicki Black Gold Engagement Rings UK's stunning range of uniquely designed black gold rings for women offers the perfect ring for you.
Savicki Black Gold Engagement Rings
Engagement Rings Through Time
Believed to have originated in ancient Egypt, where rings were initially crafted from wires or plant materials, which were later replaced with gold, bronze or ivory, the custom of giving one's bride-to-be an engagement ring was eventually taken over by the citizens of the ancient Roman Empire.
As this empire stretched from the Middle East right across to modern-day Ireland, this beautiful tradition soon spread all over the world and continued throughout the Middle Ages and the Renaissance era (15th Century), during which the custom became an "official tradition" in Europe thanks to Prince Maximilian I proposing to his beloved, Mary of Burgundy, with a diamond-studded ring.
The 16th and 17th centuries saw rings becoming more elaborate and frequently engraved with names, noble titles or religious quotes, and in the 18th Century, engagement, or betrothal rings, as they were also often referred to, became associated with diamonds as symbols of pure, eternal love.
Known for good reason as the "Era of Romanticism", the 19th Century boasted exceptional romance, which was well reflected within this period's beautiful jewellery and the artistry with which it was created.
Combined with the intensive exploitation of diamond mines during this time, this artistry resulted in ever more gorgeous, new forms of engagement rings enchanting recipients. Capturing perfection in minimalist, pure and unadulterated form, these engagement rings saw the noble stones set within them transform into beautiful floral shapes, hearts and flowers – which, of course, doubled their delight.
It was during this incredibly romantic era – in 1886, to be precise - that the now legendary Tiffany diamond engagement ring was first created. This sensational ring has become iconic as a symbol of true love and engagements – and rings created in its beautiful, timeless style still delight almost 80 per cent of all brides-to-be around the globe today, in the 21st Century. Black gold engagement rings are not only comparatively new, they are also still comparatively rare – which makes these beautiful rings even more special…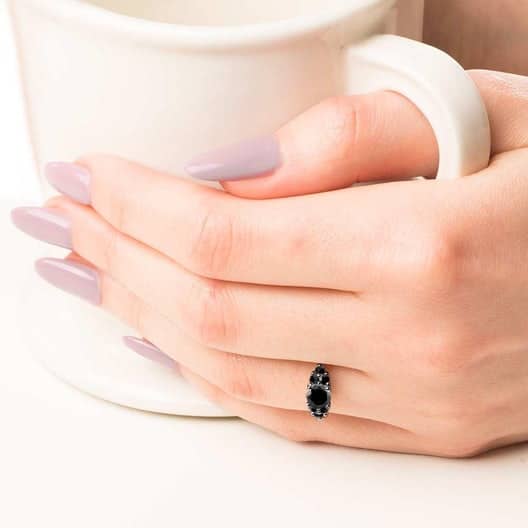 Black Gold Rings
Representing seduction, sophistication and elegance; dignity, high status and exclusivity, as well as depth, style and confidence, the colour black has an air of mystery and is said to provide both protection from emotional stress and comfort.
Combined with the fact that gold has long since been a symbol of pure and everlasting love, this makes a black gold engagement ring a wonderful symbol of lasting love, wealth of feelings and sincere commitment.
Timeless, sleek, unique and eye-catching, black gold can also be combined to beautiful perfection with virtually any precious stone. From black diamonds to give you a "solid black" look to the rich, deep colour of rubies or blue sapphires for an even more striking appearance, whichever gem you choose, black gold will highlight and enhance its beauty.
Looking for a black gold and diamond or white sapphire ring for that timeless black-and-white combination that so wonderfully suits any outfit? Would your beloved prefer an emerald ring or a ring set with a pink, purple or yellow stone? Get in touch with our expert jewellers and we can create a completely bespoke design for you.
Certain to attract attention with its stunningly beautiful, almost dramatic appearance, a black gold engagement ring is the perfect choice for confident, career-minded ladies who love non-conventional, non-conforming statement jewellery that 'stands out from the crowd'.
Timeless Style and Beauty
Savicki Black Gold Engagement Rings UK
Believing that every woman deserves to celebrate her engagement with a luxurious ring that is as unique, beautiful and special as she is herself, Savicki Jewellers have created uniquely designed, stunning engagement rings for more than 42 years.
Inspired by the beauty, power and mystery of black gold, we now combine this striking, sophisticated colour of gold with a diversity of beautifully coloured precious stones to create totally unique, gorgeous black gold engagement rings in a diversity of styles, width and price ranges. Browse the range from here or filter for a specific stone, style, width or price range to find the perfect ring to confess your love in truly sophisticated style and luxury. Can't find what you were looking for? Contact our jewellery artisans to discuss what you have in mind and we will design a completely unique, one-of-a-kind ring for you….
Can't Find the Ring You 're Looking For?