Savicki Black Gold Wedding Rings UK: Sophisticated, Timeless Black Gold Rings
Sophisticated, elegant and timeless, every pair of black gold rings created by Savicki Black Gold Wedding Rings UK is designed to perfectly symbolise your eternal love, sincere commitment and wealth of feelings.
Savicki Black Gold Wedding Rings
Black Gold Rings
Representing sophistication, elegance and style; exclusivity, depth and dignity; high status, confidence and seduction, the colour black is surrounded by a mysterious air. It is also said to bring comfort and protect wearers from emotional stress.
Combining the meanings and symbolism of this colour with gold, the long-established symbol of pure, everlasting love, makes black gold wedding bands wonderful symbols of your feelings' wealth, the depth, purity and everlasting nature of your love and the sincerity of your commitment to one another.
Capturing this symbolism in stunningly beautiful, unique forms, Savicki black gold wedding bands are sure to attract attention and admiration with their magnificent, almost dramatic appearance – and are the perfect choice for confident couples with a preference for non-conforming, non-conventional pieces of statement jewellery that will stand well out "from the crowd".
Truly unique, sleek and eye-catching, black gold also combines beautifully with virtually any type and colour of precious stone – so if you would like a wedding ring set with a diamond, ruby, emerald or indeed any together precious gem, please drop our expert consultants a line and we will call you back to discuss the possibility of designing a perfectly unique, bespoke ring to meet your specific requirements with you.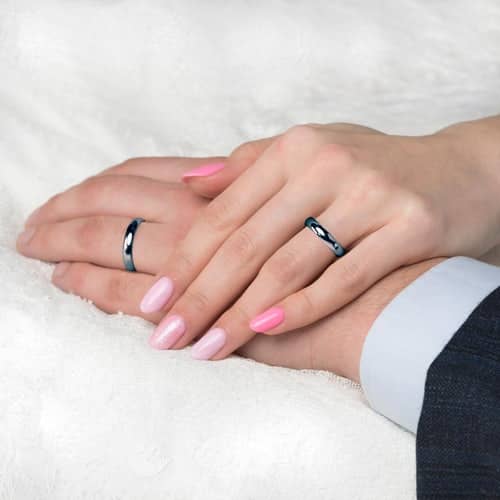 Black Gold Wedding Bands
Savicki Black Gold Wedding Rings UK
Invariably created using a seamless method to ensure durability, lasting perfection of form and certainty that your rings will not break at the joints (as is often the case with soldered rings), our black gold wedding ring sets are guaranteed for quality and come in a diversity of styles, shapes and width.
Browse the entire collection from here or search for a specific style, shape or width using the filter panel on the left. When you have found your perfect set of black gold wedding rings and sized them correctly, you can order them by telephone, via Live Chat or online. Alternatively, you can also email your order to us at: contact@savicki.co.uk .