WEDDING RINGS UK
Are you looking for a truly unique wedding ring to become a symbol of your unbreakable bond, immortalise your love for and commitment to one another in perfect beauty and style? Offering a range of uniquely designed, stunningly beautiful gold, platinum & titanium wedding rings SAVICKI Designer Wedding Rings UK is the place where you can create your own, perfect piece of jewellery!
Better Than a Thousand Words…
Express Your Love with SAVICKI Wedding Rings
The perfect shape of a wedding ring has neither a beginning nor an end. This little piece of jewellery is selected to symbolise your precious love, and emphasize the two lovers bond which is unbreakable for the time being. It is a sacred symbol forever expressing devotion, cherishing and loyalty – wherever you are.
Manifesting more than even a thousand words could ever say, from the moment you utter the sacramental words "I do" to the very end of your lives, your wedding ring will exude the strength of your feelings every time you look at it and forever keep them within its golden circle's eternity throughout the seasons of all life, from spring to autumn and from summer to winter.
Just one look at your ring will be enough to remind you of that special moment when your beloved slipped it onto your finger with all the love and devotion and all those extraordinary, magical moments you experienced together.
We wish you all that is beautiful and good for your life together.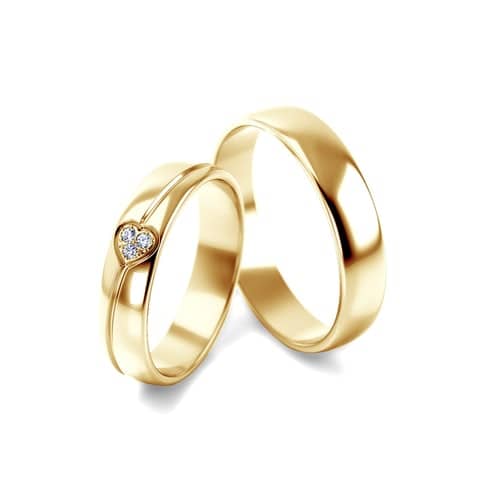 Planning Your Future Together
The fact that you are on this page tells us that you are highly likely to be planning your future together, so we wish you all the very best, everything beautiful and good for your life.
We are very proud and happy that by creating unique, beautiful wedding rings, we are given the privilege to symbolically participate in that special moment when you exchange your wedding vows, your happiness and indeed your entire life together.
Before you make your choice whether you want modern or classic wedding rings and which type/colour of gold, style and profile of ring to select, let's take a brief look at the fascinating history of the tradition that has been binding lovers across the world together for millennia…
Love Does Not Recognise Limits of Space and Time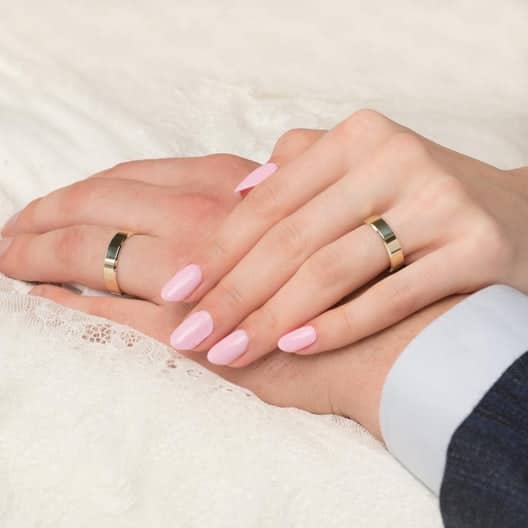 Early Wedding Rings
The history of wearing wedding rings dates all the way back to ancient Egypt. Here, in the Pharaoh's land, lovers swore eternal while putting circular rings made of plants onto their fingers. Rings created in this fashion were of magical significance for ancient Egyptians because, like time, a circle does not have a beginning or an end.
What's more, the Egyptians did not consider the central hole in these wedding rings as an empty space but as the symbol of the gateway to eternal life. Wedding rings' symbolism was consequently associated with love that should be equally eternal and unchanging.
Despite the impermanence of the plant materials used to create the rings (which somewhat interfered with this view), wedding rings became the perfect symbol of fulfilled and eternal love to the ancient Egyptians.
A Symbol of Eternal Love
THE EMERGENCE AND EVOLUTION OF GOLD WEDDING RINGS
During the 1st Millennium BC, the original wedding rings made of gold began to appear. It was, however, not the Egyptians who started using this noble metal to create their rings with but the Israelites who, in addition to their existing symbolism, also considered them as confirmation of marriage as a contract that guaranteed love and faithfulness to the other spouse.
Over subsequent centuries, the significance of wedding rings strengthened, and the tradition of couples exchanging rings made of gold on the day of their wedding began to spread around the world. Having become a worldwide symbol of love and commitment, wedding rings were finally recognised by the Catholic Church as a sign of marriage confirmed by ecclesiastical (or canon) law during the 13th Century AD.
A Worldwide Symbol of Love and Commitment
Which Finger Do You Wear a Wedding Ring On?
The Ancients believed that the "vana amoris" (Latin, "vein of love") carried blood from the ring finger of the left hand straight to the heart and consequently wore wedding rings on exactly this finger.
This custom is still practised today in many different countries, for instance: UK, USA or Brasil.
However, there is also a custom of wearing wedding ring on a right hand, coming from countries such as Poland, Russia or Denmark.
In a nutshell, it is really up to you and your home country's culture and traditional beliefs/customs which finger to wear your wedding ring on.
Left or Right?
Did you know?
It has not always been customary for both – men and women to wear wedding rings. During the 19th Century, for instance, they were predominantly worn by women that custom survived in Poland until World War I.
Earlier, it was customary for men about to set off for war to break a silver wedding ring, which was then frequently worn inside a pocket close to the heart.
Did you Know?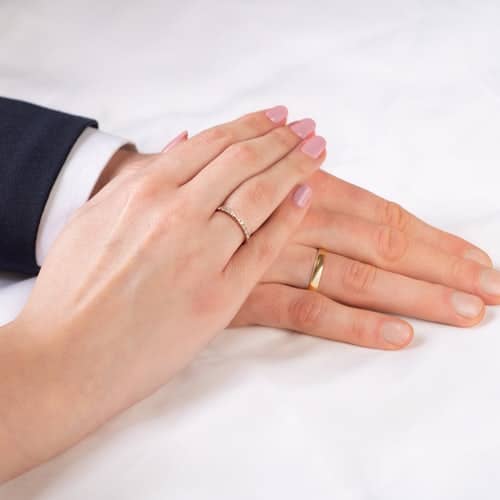 SAVICKI Designer Wedding Rings UK
It is understandable that every couple has different tastes, needs and dreams of what their eternal love's symbol should look like. Guided by these drections, we create an extensive range of stunningly beautiful designer wedding rings in a comprehensive selection of noble metals, profiles and widths; with optional presence of precious stones and in varying finishes and methods of engraving.
As such, we offer classic and modern wedding rings with full shine or matt finishes in noble metals including:
Yellow, White, Black and Rose Gold
Two or Three-Colour Gold
Silver, Platinum and Titanium
SAVICKI also offers a range of exquisite hypoallergenic rings for those who suffer from allergies to the most popular metals.
Multi-Colour Gold
Many of our rings are set with beautifully cut and arranged precious stones including:
White or Black Diamond
Ruby, Emerald or Amethyst
White, Blue, Pink or Yellow Sapphire
Tanzanite or Zirconia
Purity and Strength of Feeling
Choosing Your Designer Wedding Ring: Classic or Modern?
SAVICKI Jewellers offer a delightful range of fashionable designer wedding rings in both traditional (classic) and modern styles.
Regardless of whether you choose a classic pattern that honors beautiful traditions, or you fall for a modern model inspired by latest trends, our breathtaking rings will impress with elegance, creativity and excellent workmanship.
Perfectly presenting themselves for many decades to come, every SAVICKI wedding ring becomes a permanent symbol of never-ending love story.
Fashionable Wedding Rings
Selecting Your Rings' Type and Colour of Metal
The first thing to look at when choosing your rings is the colour or type of precious metal. Couples who prefer a traditional, look typically choose the classic yellow gold, whereas couples valuing modern design tend to prefer hite gold rings. Our rose and black gold rings are also becoming increasingly popular, as are our platinum and titanium rings.
---
Single and Multi-Colour Gold Rings
In addition to single-colour rings, our use of advanced technology also enables us to create two- and three-tone rings in a rich diversity of stunning shades.
Quality of Gold
When selecting your rings, the quality, or sample, of gold is also well worth considering. Essentially, the higher a sample is, the greater its nobility, hardness and – admittedly – its price:
Sample 0.333 – known as 8ct gold, this sample contains just 33.3% of pure gold.
Sample 0.585 - known as 14ct gold, this sample contains 58.5% of pure gold.
Sample 0.750 - known as 18ct gold, this sample contains 75% of pure gold.
The sample of gold you choose will obviously affect both your rings' appearance and its quality, which is why our experts recommend selecting rings of the highest quality possible.
YELLOW, WHITE, ROSE, BLACK OR MULTI-TONE - WHICH TYPE OF GOLD BEST EXPRESSES YOUR LOVE?
Platinum and Titanium Rings
Couples looking for something a little more distinctive that will attract attention like a magnet often opt for our delightful platinum or titanium rings.
The most precious of metals, platinum is like silver in colour, and rings made of this wonderful material offer exceptional gloss, as well as extremely high durability. As platinum's specific mass is greater than that of gold, rings created using this metal are slightly heavier than those made of gold.
Titanium rings are not only beautiful but also make a fantastic alternative for people who are allergic to gold or additives (i.e. nickel) contained within gold rings.
Platinum & Titanium Rings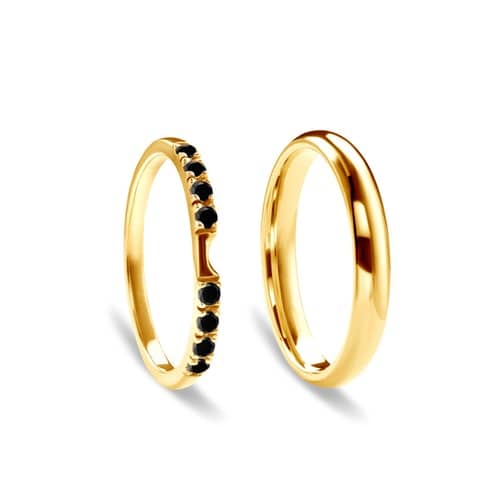 Silver Wedding Bands
Do you believe in the magic and power of the stars? Then rings from our stunningly beautiful silver and diamond 'Constellation' wedding ring collection will be the perfect way to immortalise the beauty and power of your love.
Silver & Diamond 'Constellation' Rings
Ring Profiles and Widths
When deciding which type of wedding ring to choose, it is equally important to consider which finish (i.e. gloss, matt or textured), profile and width most suits both your tastes (as opposed to merely complying with current fashion trends) and, perhaps more importantly still, will be comfortable and convenient to wear every day for many years to come.
Inner Edge Profiling
Preventing chafing on your fingers, rings with profiled inner edges provide everyday comfort while simplifying daily fitting and removal. We therefore offer an extensive range of flat, half-round and bevelled rings with profiles including D or Flat Shaped; Flat-Sided, Court and Concave-Shaped rings.
Ring Widths
You should, of course, select a ring width to match your personal taste. It is, nonetheless, worth bearing in mind that narrow rings will look better on slimmer, smaller fingers, while wider ones look best on larger fingers.
Unlikely to bend, safe & comfortable to wear, thick, wide rings are naturally less susceptible to deformation or other mechanical damage, whereas 'slimline' rings do tend to deform a little easier and, due to their thinner edges, could also be less comfortable to wear.
Are Your Rings Not as Comfortable to Wear as You Expected?
Seamless Wedding Bands
Rings with soldered seams frequently break at said seams during use, whereas seamless rings are significantly more durable and will not break or crack even after many years of wearing. Guaranteeing jewellery of the highest quality, we here at SAVICKI Jewellers therefore invariably create each designer wedding rings using a time-proven seamless method.
Benefits of Seamless Rings
The size of your fingers may change over the years. Using this seamless method allows us to adjust your rings' size without fear of them breaking at their seams. What's more, the better properties of seamless rings ensure that they are not deformed - soldered rings are flattened, which results in ring becoming an oval form, while the absence of a seam in our rings means there is no need to worry about such change in shape. Devoid of any joining around their perimeter, seamless rings ensure your rings are of the highest quality, durability and beauty of form from beginning to end.
Seamless Wedding Bands